AVIATIK C.I c.1916
by George Grasse as of 4 February 2009

COPPER STATE 1:48 SCALE RESIN/MULTIMEDIA KIT CS1018
UNDER CONSTRUCTION PHOTO #1
TOP VIEW OF EARLY PROGRESS
UNDER CONSTRUCTION PHOTO #2
RIGHT SIDE VIEW
UNDER CONSTRUCTION PHOTO #3
TOP VIEW SHOWING GLUED UPPER WING (IT COMES IN TWO HALVES), THE MAIN CONSTRUCTION OF THE FUSELAGE WITH ATTACHED LOWER WINGS, COCKPIT DETAILED, TAIL UNIT, AND HAND-MADE BRASS WING STRUTS.
UNDER CONSTRUCTION PHOTO #4
LEFT SIDE VIEW SHOWING HAND-MADE BRASS LANDING GEAR WHITH WHEELS ATTACHED AND HAND-MADE CABANE TRESTLE SUBASSEMBLY. THE AIRCRAFT SO FAR HAS HAD ITS FUSELAGE PAINTED IN CLEAR DOPE WITH LIGHT GREY NOSE PANELS AND TOP DECKING.
UNDER CONSTRUCTION PHOTO #5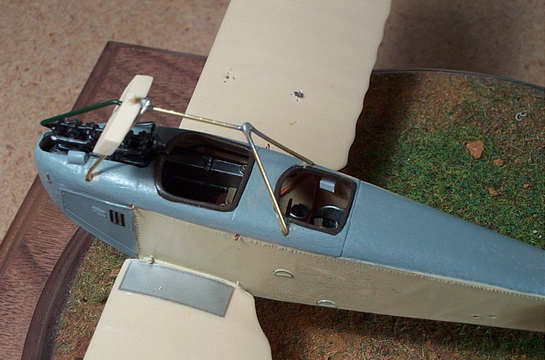 CLOSE-UP DETAIL OF THE COCKPITS, ENGINE, AND TRESTLE.
UNDER CONSTRUCTION PHOTO #
6
CLOSE-UP DETAIL OF THE SHOWING ADDITION OF THE MACHINE GUN RAILS ON EACH SIDE OF THE FRONT COCKPIT, MACHINE GUN "NO FIRE" GUIDE WIRE TO PREVENT THE OBSERVER FIRING INTO THE PROPELLER ARC, COMPASS TO LEFT LOWER WING, AND .005 MONOFILAMENT WIRE. NORMALLY, THESE WIRE WOULD BE ATTACHED TO THE TRESTLE ASSEMBLY BUT HAD TO BE LOWERED BY AVIATIK TO PROVIDE A FIELD OF FIRE FOR THE OBSERVER FROM HIS AWKWARD FORWARD COCKPIT.
UNDER CONSTRUCTION PHOTO #7
RIGHT SIDE OVERHEAD VIEW SHOWING THE COMPLETED AREA AROUND THE COCKPITS (INCLUDING MACHINE GUNS) AND THE CONTROL WIRES FOR ELEVATORS AND RUDDER (USING .005 MONOFILAMENT THREAD).
REFER TO MY JOURNAL ARTICLE FOR HISTORY AND PHOTOS OF THIS AIRCRAFT WHICH SERVED WITH FAA(A) 207 ON THE WESTERN FRONT



Click Here
-------------------------------- FINIS --------------------------------
References:
Aviatik C.I, Windsock Datafile 63, P. M. Grosz, color profiles and "Colours & Markings" section by Ray Rimmel, scale drawings by Ian R. Stair, published by Albatros Publications Ltd, Berkhamsted, UK, 1997.
Das Propellerblatt, Nummer 21, 2008, Walter Werner Editor, "Chronik der Flieger-Ersatz-Abteilung 10 Boblingen - Teil 1" by Walter Werner and Alfred Dürr, Munich, 2008. Contains some photos of Aviatik C.I aircraft in the training role but good for details.
German Aircraft of the First World War, by Peter Gray and Owen Thetford, scale drawings by George Haddow, published by Putnam & Company Limited, London, 1962. A good source in its day but now becoming quite dated.
GO TO?