D.F.W. C.V (Av) C.5886/16 , FA(A) 276, 1917
by George Grasse

JAGER 1:48th SCALE PLASTIC KIT JMJA08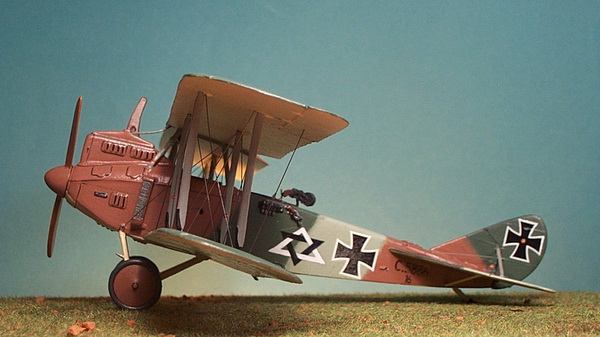 THE FINISHED PRODUCT. THIS IS DFW C.V C.5886/16 AS FLOWN BY FA(A) 276 IN THE SPRING OF 1917. THE AIRCRAFT IS FROM THE FIRST AVIATIK LICENSE-BUILT ORDER OF OCTOBER 1916. IT IS FINISHED THE 3-COLOR CAMOUFLAGE SCHEME WHICH WAS IN EFFECT FROM SUMMER 1916 TO APRIL 1917 WHEN IT WAS REPLACED BY THE 2-COLOR "LILAC" SCHEME. UNDERSIDES ARE CDL. AIRCRAFT ALREADY IN SERVICE WERE RARELY REPAINTED. NOTE THE HAND-PAINTED AVIATIK DECALS ON THE TAILPLANE AND INNER WING STRUTS.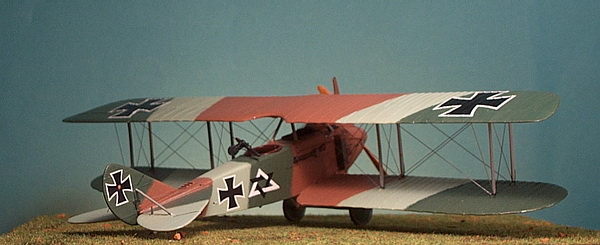 THIS PHOTO OF C.5886/16 SHOWS THE 3-COLOR SCHEME TO GOOD ADVANTAGE. THE INTER-TWINED TRIANGLES IS AN INDIVIDUAL AIRCRAFT MARKING. THE PLANE'S PILOT WAS Uffz. F. DECKER BUT HIS OBSERVER IS NOT KNOWN. THE MOTIF AND THE SERIAL NUMBER WERE MADE USING MICRO-MARK DECAL PAPER. ALL WIRES ARE .009 MUSIC WIRE. MANY SMALL DETAILS WERE ADDED AND ARE NOTED IN THE TEXT.
The actual DFW C.V (AV) to be built is probably going to be from the first two Aviatik production batches because I want to finish the aircraft in either 1) the late-1916 three-color camouflage (dark green, red-brown, light Brunswick green) or, 2) the Spring 1917 two-color "lilac" scheme (dark green and lilac, sometimes referred to as mauve, purple, or "liver" colored). There is not much information and photo history of the early Aviatik version with side or "ear" radiators. Black and white WW1 photos are DIFFICULT to interpret and I have to rely on Idflieg directives, manufacturers practices, and the best guess of WW1 aviation historians.
dfw (DEUTCHES FLUGZEUG WERKE) WAS THE PRIME MANUFACTURER. THE DFW C.V WAS LICENSE BUILT BY THREE OTHER MAJOR GERMAN MANUFACTURERS: LVG (LUFT-VERKEHRS-GESELLSCHAFT), AVIATIK, AND HALBERSTADT. THE CUMULATIVE TOTAL OF DFW C.V AIRCRAFT BUILT IS OVER 3,900 MAKING IT THE MOST WIDELY PRODUCED GERMAN TYPE OF THE WAR. IT'S PRIMARY FUNCTION WAS ARMY-COOPERATION WHICH INCLUDES ALL OF THE FOLLOWING: RECONNAISSANCE, ARTILLERY SPOTTING, PHOTOGRAPHY, BOMBING, AND GROUND ATTACK. LATER, IN 1918, MANY OF THE SPECIALIZED DUTIES WERE TAKEN OVER BY THE RUMPLER C.IV (HIGH-ALTITUDE, LONG-RANGE PHOTOGRAPHY) AND THE HANNOVER AND HALBERSTADT CL SERIES (GROUND ATTACK). VIRTUALLY EVERY FA AND FA(A) ABTIELUNG HAD DFW C.V'S AS PART OF THEIR EQUIPMENT. SO, IT IS A TREMENDOUSLY IMPORTANT AIRCRAFT.
WHY IS IT SO HARD TO FINISH? THOUSANDS WERE BUILT BUT THE PHOTOGRAPHIC EVIDENCE IS SPARSE, NOT BECAUSE OF A LACK OF PHOTOS, BUT BECAUSE THE PHOTOS DON'T REVEAL MUCH IN THE WAY OF CAMOUFLAGE SCHEMES. THE FILM USED IN THAT DAY TENDED TO INTERPRET WARM COLORS SUCH AS YELLOW AND BROWN AS DARK COLORS. SOMETIMES YOU CAN'T TELL SEE THE DEMARCATION FROM RED-BROWN TO DARK GREEN BECAUSE OF THIS. ANOTHER EXAMPLE IS THE FILM THEN IN USE. FOR EXAMPLE, LOOK AT A PHOTO OF A GERMAN PLY-COVERED FUSELAGE SUCH AS AN ALBATROS THAT HAS BEEN CLEAR VARNISHED. IN SOME PHOTOS, THE CLEAR VARNISH APPEARS QUITE DARK SO THE INTERPRETATION IS THAT THESE WERE STAINED A RED-BROWN TO MATCH THE COLOR THEN IN VOGUE AS PART OF THE EARLY 1916 2-COLOR SCHEME OR THE LATER 1916 3-COLOR SCHEME. THERE IS NO EVIDENCE THAT THE ALBATROS FACTORY PURPOSELY STAINED THE FUSELAGE. THE RETORT TO THAT IS "WELL, THEY STAINED THEM IN THE FIELD AT THE UNIT LEVEL". AS ANY OF USE WHO HAVE RE-STAINED FURNITURE KNOW, YOU HAVE TO REMOVE ALL OF THE LAYERS DOWN TO THE BARE WOOD AND THEN APPLY THE STAIN. WHO IN THE FIELD IN THE GERMAN AIR SERVICE HAS DONE THIS?
ALSO, ARTIFACTS ARE QUITE AGED AND, TO SOME EXTENT, INFILTRATED BY FAKES.
WHAT ABOUT THE HISTORICAL WRITTEN RECORD SUCH AS GERMAN ACCOUNTS, GERMAN FACTORY RECORDS, SPECIFICATIONS, AND THE LIKE? WELL, MUCH WAS DESTROYED OR OTHERWISE LOST FROM THE END OF WW1 TO THE END OF WW2. THERE MIGHT BE LARGE, UNSEEN COLLECTIONS AWAITING DISCOVERY BY A NEW AGE OF AVIATION HISTORIANS. TO A LARGE EXTENT, THE HISTORICAL RECORD IS MISSING.
WRITTEN ACCOUNTS IN THE FORM OF DIARIES AND AFTER-ACTION REPORTS ARE THE LEAST RELIABLE IN MY OPINION. TAKE ANY ONE HUNDRED PEOPLE AND HAVE THEM STARE AT AN ORANGE AND THEN DESCRIBE ITS COLOR. YOU WILL GET 100 DIFFERENT RESPONSES. ORANGE IS ORANGE, ISN'T IT. LOOK AT ANY ACCOUNT OF AN AIR ACTION AND YOU WILL QUICKLY FIND THAT WHAT ONE OBSERVER CALLS "MAUVE" IS SOMEONE ELSE'S "VIOLET". ONE GENERAL REMARK MADE BY A NUMBER OF EYEWITNESSES WILL USE THE TERM "IT WAS SORT OF GREEN ALL OVER" OR "IT HAD A SPECKLED APPEARANCE".
THE BEST WAY FOR ME IS TO DETERMINE SCHEMES BY MY OWN RESEARCH. SURPRISINGLY, THE PHOTOGRAPHIC EVIDENCE DOES HELP AND HERE'S HOW.
UNDER CONSTRUCTION PHOTO #1
GENERAL VIEW OF THE RESIN KIT. THE LANDING GEAR "V" STRUTS ARE STRUTZ MATERIAL CUT TO LENGTH AND SOLDERED AT THE JOINT FOR EXTRA STRENGTH. THE LANDING GEAR AXLE IS BRASS ROD FAIRED OVER WITH ORDINARY LEAD FOIL. THE CLAW BRAKE WAS NOT USED ON THIS MODEL. THE TAILPLANE STRUTS ARE ALSO MADE FROM STRUTZ MATERIAL.
UNDER CONSTRUCTION PHOTO #2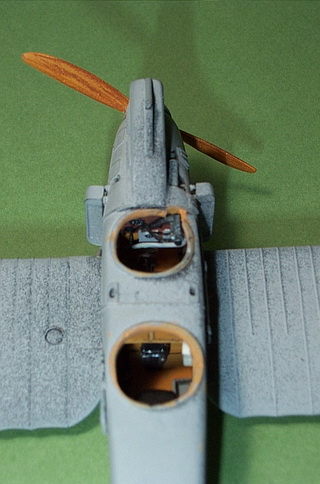 BOTH COCKPITS WERE EXTENSIVELY DETAILED WITH ALL OF THE KIT PARTS PLUS A NUMBER OF MY OWN, ESPECIALLY WIRES, TUBES, AND GADGETS. DIALS WERE HAND PAINTED. THE PROPELLER WAS PAINTED A BASE COLOR AND THEN DRAWN USING COLORED PENCILS. THERE'S JUST ENOUGH WAX IN THE PENCIL COLORS TO PRODUCE A SOMEWHAT FUZZY EDGE AND GLOSS.
UNDER CONSTRUCTION PHOTO #3
ANOTHER GENERAL VIEW OF THE WORK IN PROCESS. MUCH NEEDS TO BE DONE. ALL OF THE WIRE BRACING HOLES HAVE SINCE BEEN PRE-DRILLED. I WILL USE .012" MUSIC WIRE FOR THIS LARGE TWO-SEATER.
References:
DFW C.V, Windsock Datafile 53, P. M. Grosz, color drawings and "Colours and Markings" section by Ray Rimmel, scale drawings by Ian R. Stair, published by Albatros Publications Ltd, Berkhamsted, UK, 1995.
German Aircraft of the First World War, by Peter Gray and Owen Thetford, scale drawings by George Haddow, published by Putnam & Company Limited, London, 1962.
Over the Front, Journal of the League of the League of World War One Aviation Historians, from a number of issues, primarily a source for photos and some FA(A) unit information, especially OTF 2102, 2104, and 2201.
The DFW C.V, by Dan-San Abbott, an article taken from "The Aerodrome", an online website.
German and Austrian Aviation of World War I, by Hugh W. Cowin, published by Osprey Publishing, Oxford, UK, 2000.
GO TO?