HALBERSTADT D.II (Han) D.810/16 , JASTA 25, 1917
by George Grasse

BLUE MAX 1:48th SCALE PLASTIC KIT BX0202
UNDER CONSTRUCTION PHOTO #1
THIS PHOTO OF THE BLUE MAX KIT SHOWS HOW FAR ALONG THE MODEL HAS PROGRESSED. NOTE THE COMPLEX TAILSKID SUB-ASSEMBLY.
UNDER CONSTRUCTION PHOTO #2
CLOSE UP SHOWING COCKPIT DETAIL: INSTRUMENT PANEL, CONTROL STICK, SEAT BELTS. LOWER WING AND FUSELAGE HAVE BEEN PAINTED IN THE 2-COLOR DARK GREEN/RED-BROWN SCHEME USING MISTERKIT ACRYLICS. UPPER WING IS SPRAYED IN AN O.D. UNDERCOAT. ALL STRUTS ARE IN PLACE BUT WIRING HAS NOT BEEN DONE YET.
UNDER CONSTRUCTION PHOTO #3
GENERAL VIEW OF THE UNDERSIDE SHOWING THE FINISHED BRUSH-PAINTED SURFACE USING A 50-50 MIX OF HUMBROL HUM023 DUCK EGG BLUE AND HUM065 AIRCRAFT BLUE. LANDING GEAR IS SOLDERED BRASS "STRUTZ" FOR STRENGTH AND RIGGING IS .009 MUSIC WIRE. TAIL SKID INCORPORATED THE KIT'S PART BUT SUPPORTING BRACES WERE ALL MADE FROM BRASS ROD. SMALL HOLES JUST VISIBLE ADJACENT TO THE TOP WING STRUTS ARE FOR RIGGING WIRE.
UNDER CONSTRUCTION PHOTO #4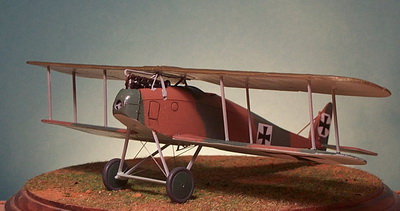 LEFT FRONT OVERALL VIEW. THE WING STRUTS WERE MADE FROM "STRUTZ" BRASS BECAUSE I DON'T TRUST PLASTIC OR RESIN FOR OVERALL MODEL DURABILITY. CABANE STRUTS WERE CONSTRUCTED OF PLASTIC.
Halberstadt D.II (Han)D.810/16 and D.II (Han) D.813/16: Reference Albatros Publications "Halberstadt Fighters" Classics of WW1 Aviation 1, page 18, photo 36, shows two Hannover-built Halberstadt D.II aircraft with the notation that they are probably serving in Macedonia with either Jasta 25 or Halbgeschwader I. See photo below. Note the clear view of the placement of the serial number, the white fields of the crosses, and the barely visible camouflage pattern. The letter markings of white 'S' (Schütze) and white 'D' (pilot unknown) probably represent the last names of the assigned pilots similar to Lt. Meier's white 'M' D.II (Han) D.810/16. Note that in each case, the letters in the photo are followed by, what appears to be, a white period dot. The view of the upper wing on both aircraft does not reveal a repetition of the letter. What is interesting is the faint camouflage color change on the upper wing of 'S' which tends to support the Hannover scheme of applying the reddish-brown color span-wise. However, I believe it is a photographic anomaly. D.II 813/16 is one of two aircraft for which decals are provided in the Blue Max 1/48th scale kit (D.II 818/16 is the other). I have elected to represent white 'S.'
Camouflage colors used on the upper surfaces and fuselage sides is almost always referred to as irregular patches of dark green and reddish-brown. Under surfaces are described as either CDL or pale light blue. Wing struts can possibly be pale light blue or, most likely, light gray. Landing gear struts and wheel covers appear to be dark green on one side of the aircraft and reddish-brown on the other; sometimes the struts and wheel covers on one side are mixed and sometimes they are the same color, e.g. olive green struts with reddish-brown wheel covers, vice-versa, or both the same color on one side and the other color on the other side. Note that the inside of the wheel covers were almost always the underside color, i.e., CDL or pale light blue.
Notes on colors: dark green is often referred to as dark olive green or olive green. Shades of CDL (clear doped linen) varied widely because of quality, age of the aircraft, exposure, and so on. Red-brown varied in description from rust brown to dark brown. Pale blue has more descriptors: pale light blue, pale blue, sky, and so on. All of these colors really did vary from production batch to production batch and between manufacturers. Guidelines for colors were based on a written recipe using a combination of pigments and fillers. A guy or gal on the production floor mixed the batch of paint using the guideline so variations were common and not unusual. I maintain a book on color paint chips which I make from bottles of different manufacturers. I might use Misterkit's German light blue for the underside in one case but, for variation and in this case for the Halberstadt, I liked the result from mixing Humbrol colors.
The Blue Max kit is well done but minimal in both details not supplied and in assembly instructions. There could have been a little more detail in the cockpit. I added all of the control wires running under the pilot's seat, a few cables running here and there, and the seat belts. I have to add a tachometer that was mounted on the fuselage just inside the windscreen. That was a necessary gauge that the pilot had to monitor when firing the synchronized machine gun. As noted above, the tailskid subassembly was built up from brass rod for strength. The assembly instructions were virtually of little use. The Windsock Datafile Special noted below was of more use. The propeller was primed and painted a light buff. I used my colored pencils to work in the laminations. There's enough wax in the pencil that when the finished product is rubbed at some length, a realistic semi-polished effect is achieved.
Decals are always a problem because I never seem to build any of the versions supplied by the manufacturer. In this case, I'll have to make the decals for the white 'S.' and the white serial number (D.810/16). That will be a challenge because I don't have a printer that prints with white ink. Plus, the ink jet printer I have causes one other problem and that has to do with sealing the ink so it won't dissolve in water. To do that, one needs to overspray the decal in one or more coats of a protective sealer. The best solution seems to be to invest in laser printer (sealing not necessary) that prints in white ink. Stay tuned.
------------------------------------------------------------------------------------------------------------------
References:
Halberstadt Fighters, Classics of WW1 Aviation, Windsock Datafile Special, P. M. Grosz, color profiles and "Plumage" section by Ray Rimmel, scale drawings by Ian R. Stair, published by Albatros Publications Ltd, Berkhamsted, UK, 1996.
Early German Aces of World War 1, Osprey Aircraft of the Aces No. 73, Greg VanWyngarden, aircraft profiles by Harry Dempsey, line artwork by Mark Styling, Osprey Publishing Limited, 2006.
Jagdstaffel 2 'Boelcke' - von Richthofen's Mentor, Osprey Aviation Elite Units No. 26, Greg VanWyngarden, aircraft profiles by Harry Dempsey, Osprey Publishing Limited, 2007.
German Aircraft of the First World War, by Peter Gray and Owen Thetford, scale drawings by George Haddow, published by Putnam & Company Limited, London, 1962.
German and Austrian Aviation of World War I, by Hugh W. Cowin, published by Osprey Publishing, Oxford, UK, 2000.
GO TO?