FRENCH NAPOLEONIC DRAGOON UNIFORMS
FRENCH DRAGOON REGIMENTS 1804-15
SELECT A CATEGORY FROM THE TABLE BELOW OR SCROLL DOWN TO VIEW
MÉTAL MODÈLES MM0046
SOLDAT DU 7e REGIMENT DE DRAGONS PAINTED BY GEORGE GRASSE
REGIMENTAL FACING COLORS AND POSITIONS
Facing color positions are lapels, turnbacks, collar, cuffs, and cuff-flaps (piped dark green). Facing color for all regiments on lapels and turnbacks piped dark green. Dark green facing color positions piped in the facing color. The lace color of all dragoon regiments was white (silver for officers). Button color of all dragoon regiments was white metal tin (silver for officers). Jackets for all regiments was dark green and breeches were a pale yellow/biege.
REGIMENTS
NOTE: the rear pockets of the habit-veste were either horizontal (H) or vertical (V)
Pockets

Scarlet

Crimson

Pink

Yellow

Orange

Position

Horizontal (H)

1

7

13

19

25

cuffs, cuff flaps, collar

2

8

14

20

26

cuffs

3

9

15

21

27

cuff flaps, collar

Vertical (V)

4

10

16

22

28

cuffs, cuff flaps, collar

5

11

17

23

29

cuffs

6

12

18

24

30

cuff flaps, collar
In general, trumpeters wore the reverse colors of their regiment. For example, a trumpeter of the 28th Dragoon Regiment would wear an orange coat with cuffs, cuff-flaps, and collar in dark green piped orange. However, trumpeter uniforms varied widely at any one time. Trumpeters typically rode white or gray horses.
MÉTAL MODÈLES MM0019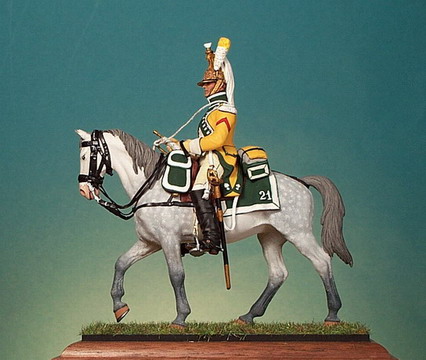 TROMPETTE DU 21e REGIMENT DE DRAGONS PAINTED BY GEORGE GRASSE
Splendeur des Uniformes de Napoléon: Cavalerie. Éditions Charles Hérissey, Évereux, France, 2002. ISBN 2914417071.
Dragons et Guides, Les Uniformes du Premier Empire, Collection du Cdt E. -L. Buquoy, Jacques Grancher, Editor, Paris, 1980.
L'Armée Française, Plate #'s 7, 20, 25, 86, 96 Dragoons 1804-1815. Lucien Rousellot.
Napoleon and Austerlitz, "The Glory Years" of 1805-1807, Volume 1. Scott Bowden, The Emperor's Press, Chicago, Illinois, 1997. ISBN 0962665576.
Napoleon's Dragoons and Lancers. Emir Bukhari with colour plates by Angus McBride, Osprey Publishing Ltd, London, 1976. ISBN 0850452465.
Napoleon's Regiments, Battle Histories of the Regiments of the French Army, 1792-1815. Digby Smith, Stackpole Books, Pennsylvania, 2000. ISBN 1850450888.
Miniaturas Labayen Color Guides, Series 34 (Dragoons). Ramon Labayen, Spain.
GO TO?