FRENCH NAPOLEONIC HUSSAR UNIFORMS
FRENCH HUSSAR REGIMENTS 1804-15
SELECT A CATEGORY FROM THE TABLE BELOW OR SCROLL DOWN TO VIEW
MÉTAL MODÈLES MM0044
SOLDAT DU 2e REGIMENT DE HUSSARDS PAINTED BY GEORGE GRASSE
TROOPERS AND OFFICERS UNIFORMS
(REFER TO NOTES AT END OF TRUMPETER TABLE)
| | | | | | | |
| --- | --- | --- | --- | --- | --- | --- |
| Regt | Dolman | Pelisse | Breeches | Lace ¹ | Cuffs | Collar |
| 1 | sky blue | sky blue | sky blue | white | red | sky blue |
| 2 | brown | brown | sky blue | white | sky blue | brown |
| 3 | blue grey | blue grey | blue grey | red | red | blue grey |
| 4 | dark blue | red | dark blue | yellow | red | dark blue |
| 5 | sky blue | white | sky blue | yellow | white | sky blue |
| 6 | red | dark blue | dark blue | yellow | dark blue | dark blue |
| 7 | green | green | red | yellow | red | red |
| 8 | green | green | red | white | red | red |
| 9 | red | sky blue | sky blue | yellow | sky blue | sky blue |
| 10 | sky blue | sky blue | sky blue | white | red | red |
| 11 | dark blue | dark blue | dark blue | yellow | red | red |
| 12 | red | sky blue | sky blue | white | sky blue | sky blue |
| 13I | brown | brown | sky blue | white | sky blue | sky blue |
| 13J | red | sky blue | sky blue | yellow | sky blue | red |
| 14 | green | red | red | white | green | red |
(REFER TO NOTES AT END OF TRUMPETER TABLE)
| | | | | | | |
| --- | --- | --- | --- | --- | --- | --- |
| Regt | Dolman | Pelisse | Breeches | Lace ¹ | Cuffs² | Collar |
| 1³ | red | red | sky blue | white | sky blue | sky blue |
| 2 | sky blue | sky blue | brown | white | brown | brown |
| 3 | red | red | red | blue grey | blue grey | red |
| 4 | red | dark blue | red | yellow | dark blue | dark blue |
| 5 | sky blue | red | red | yellow | white | sky blue |
| 6 | red | red | red | yellow | red | dark blue |
| 7 | red | red | green | yellow | green | green |
| 8 | red | red | green | white | green | green |
| 9 | yellow | red | sky blue | white | red | red |
| 10 | red | red | sky blue | white | sky blue | sky blue |
| 11 | white | white | dark blue | yellow | sky blue | dark blue |
| 12 | sky blue | red | red | white | red | red |
| 13I | sky blue | sky blue | brown | white | brown | brown |
| 13J | white | white | red | yellow | sky blue | sky blue |
| 14 | red | green | green | white | red | green |
MÉTAL MODÈLES MM0044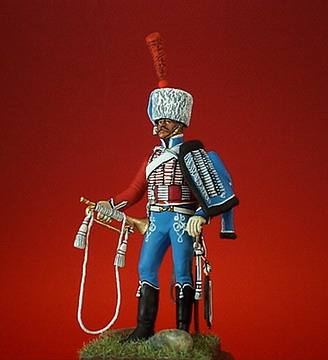 TROMPETTE DU 1e REGIMENT DE HUSSARDS PAINTED BY GEORGE GRASSE
NOTES TO UNIFORM TABLES ABOVE
| | | |
| --- | --- | --- |
| Nr. | ITEM | NOTES |
| * | Trumpeters in general | Generally, trumpeters were supposed to wear their uniform in the reverse colors of the regiment. They rode white or gray horses with a black sheepskin saddle cover. Since the uniforms were furnished by the regimental commander, many variations have been noted but not furnished here except for the 1st Hussars (see note ³ below). |
| ¹ | Lace Color | Braid, shako flounders & cords, piping, and button color (white = pewter/silver for officers or yellow = brass/gold for officers). Exception: 3rd Hussars red piping, white/silver button color. |
| ² | Cuffs | Facing color on dolman cuffs. |
| ³ | 1st Hussar Trumpeter Variations | 1806 - sky blue pelisse (Buquoy 19), 1809 - red pelisse (Buquoy 20), blue pelisse (Buquoy 69), 1810 - blue pelisse (Buquoy 86), 1811 - red pelisse (Buquoy 93), 1812 - white pelisse (Osprey G3), 1814 - white pelisse (Buquoy 102). |
| 13I | 13th Hussars | Formed 1795 disbanded 1796. Reformed 1813 from Italian recruits. Served with the Grande Armee in the 1813 Saxon Campaign with distinction but suffered heavy losses. Disbanded and the remaining men transferred to the 14th Hussars in December 1813. |
| 13J | 13th Hussars | Reformed in January 1814 from the Regiment de Hussards Jerome- Napoleon. Served as part of the Armee d'Italie. DisbandedAugust 1814. |
Splendeur des Uniformes de Napoléon: Cavalerie. Éditions Charles Hérissey, Évereux, France, 2002. ISBN 2914417071.
La Cavalerie Légere, Les Uniformes du Premier Empire, Collection du Cdt E. -L. Buquoy, Jacques Grancher, Editor, Paris, 1980.
L'Armée Française, Plate #'s 9, 22, 51, 54, 57, and 82, Hussards 1804-1815. Lucien Rousellot.
Napoleon and Austerlitz, "The Glory Years" of 1805-1807, Volume 1. Scott Bowden, The Emperor's Press, Chicago, Illinois, 1997. ISBN 0962665576.
Napoleon's Hussars. Emir Bukhari with colour plates by Angus McBride, Osprey Publishing Ltd, London, 1978. ISBN 0850452465.
Napoleon's Regiments, Battle Histories of the Regiments of the French Army, 1792-1815. Digby Smith, Stackpole Books, Pennsylvania, 2000. ISBN 1853674133.
Miniaturas Labayen Color Guides, Series 31 (Hussars). Ramon Labayen, Spain.
GO TO?