AEG C.IV C.7054/17, FA 304b, 1918
by George Grasse

COPPER STATE MODELS 1:48 SCALE RESIN KIT CS1017 OF THE AEG C.IV
UNDER CONSTRUCTION PHOTO #
1
JUST GETTING STARTED. FUSELAGE HALVES ARE JOINED, THE PAINTED ENGINE IS INSTALLED, AND A FEW PE PARTS HAVE BEEN ADDED. THE COCKPIT IS A SUB-ASSEMBLY THAT PASSES THROUGH AN OPENING ON THE UNDERSIDE AND IS IN WORK.
UNDER CONSTRUCTION PHOTO #2
UPPER WING IS JOINED. COCKPIT IS DETAILED. PROPELLER IS FINISHED BUT NEEDS A PROPELLER BOSS.
UNDER CONSTRUCTION PHOTOS #3 & #4

TOPSIDE OF THE FUSELAGE SHOWING THE INSTRUMENT PANEL. UNDERSIDE OF THE FUSELAGE SHOWING THE BRASS TAIL UNIT STRUTS AND TAILSKID. NOTE THE LARGE OPENING INTO WHICH THE COCKPIT FLOORBOARD FITS.
UNDER CONSTRUCTION PHOTO #5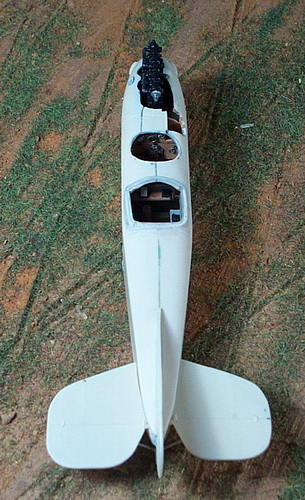 COCKPIT FLOOR INSTALLED.
UNDER CONSTRUCTION PHOTO #
6
LOWER WINGS INSTALLED AND LANDING GEAR INSTALLED.
UNDER CONSTRUCTION PHOTO #7
OVERALL "LILAC" WITH DARK OLIVE GREEN ON THE FUSELAGE.
UNDER CONSTRUCTION PHOTO #
8
LILAC AND DARK OLIVE GREEN SCHEME IS ON THE AIRCRAFT ALONG WITH FUSELAGE AND TAIL MARKINGS. THE CABANE STRUTS WERE MADE FROM BRASS AND THE TOP WING WITH ATTACHED MONOFILAMENT "WIRES" IS GLUED ON. WIND STRUTS ARE NEXT FOLLOWED BY THE ATTACHMENT OF "WIRES" TO THE LOWER WING.
UNDER CONSTRUCTION PHOTO #9
TECHNIQUE FOR DRYING OUT A FEW RIGGING "WIRES". ALL OF THE WING MONOFILAMENT .005 DARK GRAY THREADS HAVE BEEN GLUED TO SMALL PRE-DRILLED HOLES IN THE UNDERSIDE OF THE TOP WING. AFTER THE WINGS ARE SECURED TO STRUTS, TWO TO FOUR WIRES ARE PASSED THROUGH PRE-DRILLED HOLES IN LOWER WING. A SMALL AMOUNT OF SUPER GLUE IS APPLIED TO EACH HOLE FROM UNDERNEATH. CLIPS ARE ATTACHED FOR WEIGHT TO HOLD THE WIRE TAUT WHILE THE GLUE IS DRYING.
UNDER CONSTRUCTION PHOTO #
10
FINISHED. THIS 1:48 SCALE AIRCRAFT IS FEATURED IN ISSUE 6 OF MY HISTORICAL MINIATURES JOURNAL. CLICK HERE FOR HISTORY AND CONSTRUCTION DETAILS.
This 1:48 scale model is based two widely published photos appearing in Albatros Productions' Windsock Datafile 67 "AEG C.IV" by P. M. Grosz (photos 16 and 18), Over the Front journal Volume 22 Issue 3 page 250, and Dan-San Abbott's AEG C.IV article available online from the Aerodrome Forum. See the Bibliography listed below. This aircraft was flown by Flieger-Abteilung 304b on the Palestine Front from late 1917 into1918. As of this writing, I do not know the crew members or the fate of this aircraft but research is on-going. This model is featured in my online November 2009 issue of

Historical Miniatures Journal

.
-----------------------------------------------------------------------------------------------------------------
Bibliography:
Abbott, Dan-San. The AEG C.IV. Available online from the Aerodrome Forum. Excellent rendition of the camouflage scheme of C.7054 except that I believe the colors are reversed, i.e., the dark patches are dark green and the light patches are light mauve or lilac.
Gröschel, Dieter H. M. "Ein Verlust der bayerischen Flieger-Abteilung 304 an der Palästina-Front 1918". Das Propellerblatt, Nummer 7, Sommer 2003.
Grosz, P. M. AEG C.IV, Windsock Datafile 67, "Fabric - camouflage and markings" section by Ray Rimmel, color profiles by Ray Rimmel, scale drawings by Ian R. Stair, Albatros Publications Ltd, Berkhamsted, UK, 1998. Excellent for details from a number of other AEG C.IV aircraft especially engine and cockpit closeups.
Nikolajsen, Ole. Pilot Fazil Bey Turkish Aviation Hero. Over the Front, Volume 22, Issue 3, published by the League of World War I Historians, 2007. Contains enlarged and higher quality photos as those appearing in the Windsock Datafile. Good for details such as the A.E.G. logo on the rudder and the irregular two-color "lilac and green" camouflage.
GO TO?